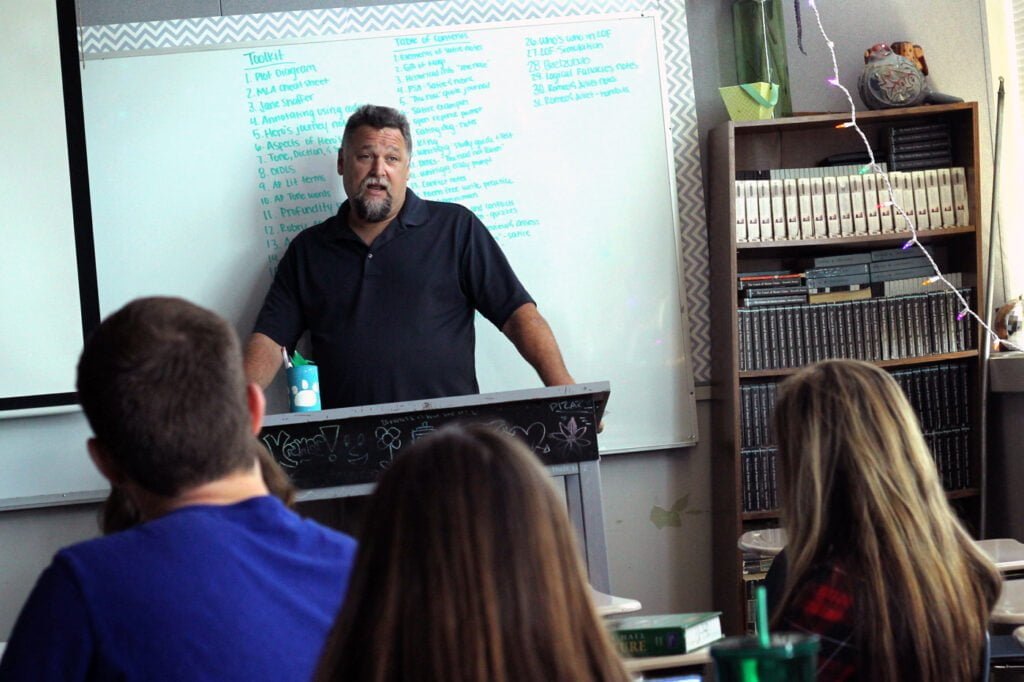 Before Redding resident Neil Shaw sought treatment for accumulative Post-traumatic Stress Disorder, his experiences as a Sheriff's deputy in Monterey County had made him so hyper vigilant and overwhelmed with negativity that even when he went to Disneyland it took him an entire week to relax.
"After going to so many crashes, domestic violence cases and other critical incidents, it takes a toll if you don't take care of it," he told the University Preparatory School's AP Psychology Class Thursday, April 16, 2015. "Some of those PTSD symptoms can actually be helpful in the military or law enforcement, but they're a drag on the home life and relationships."

He explained to the students that PTSD caused him to have a short temper and suffer from nightmares, night sweats and memory loss. It had an effect on his body as well, as he developed a heart arrhythmia that necessitated him to consult with a cardiologist.
Eventually a compassionate colleague recommended he see a therapist and ever since then Shaw has been on a successful journey to get his PTSD under control. He said therapy, prayer and eye movement desensitization and reprocessing (EMDR) sessions have proved incredibly beneficial.
"Whether you go into psychology or not, you have the opportunity to learn about these issues and talk about them," he told the students. "Growing up in my day, (mental illness) was never something we talked about."

While Neil said medication was not necessary for his treatment, Brave Faces advocate and Operation Iraqi Freedom veteran Carrie Diamond described her own quixotic journey with medication and treatment. Her mother encouraged her to seek help, eventually at the Redding Veterans Affairs clinic, because she was struggling badly with hyper-vigilance and mania when she returned home from war.

"When you're diagnosed with serious mental illness like I was with bipolar, PTSD and OCD (obsessive compulsive disorder), it's like this big pile of stuff you have to climb," she said. "It's not impossible, but it's hard to accept at first, especially that you may have to deal with it your whole life."
She said the medications she takes are not like "a pain pill you pop and the pain goes away." They shift her perception of reality, and it takes some getting used to. And she also said there are serious side effects. One pill that is commonly prescribed to veterans helps stabilize her moods but also makes her feel like she wakes up with a hangover every morning, she said.
While she may always need medications to keep her symptoms under control, she told the class that getting involved in community activism such as organizing LGBT Safe Zone trainings for Shasta College and non-profit staff, earning her degree and finding purpose were just as key to her recovery.

"Trauma can really affect anyone. If you have something that's happened to you that is bugging you or you can't stop thinking about, it's time to get it squared away and get the help you need before it gets worse," Shaw told the students.
At the end of the class, students asked insightful questions about the speakers' symptoms and treatments. One student wrote after the Brave Faces presentation, "It was really valuable to meet people with a mental (health) disabilities and see that they are in recovery rather than to just hear from people who've studied mental illness."
To have a Brave Faces speaker come share with your school, club, organization or staff meeting, contact Christopher Diamond at (530) 229-8484 or cdiamond@co.shasta.ca.us.
To learn to recognize the signs someone may be thinking about suicide, go to Know the Signs.